One of the most useful reports you will find on your dashboard is your Primary Service Ratings report.
Primary Service Ratings help you determine exactly which areas of your hotel are doing well and which areas might need some extra attention.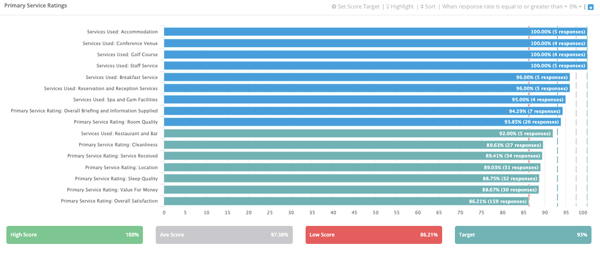 For example, your report could show you that your reception staff are doing incredibly well with the highest score, but your guests' are giving sleep quality a consistently low score. This immediately shows you that your budget might be better spent on new mattresses or pillows than on staff training.
Changing how you view your primary service ratings:
Highlight: Highlight Service ratings or Services used on the graph.
Sort: Change how service ratings are ordered, from lowest to highest or highest to lowest.
Response Rate Percentage: By Default your service ratings are based on whether the response rate for a certain question is greater than 0% which means that all questions, even ones where some guests may have not answered, will appear, you can change this to a higher percentage for a more accurate chart based on your response rate for a question.