Your Comprehensive Report is an overall view based on all feedback collected within your GuestRevu account.
This report is the most detailed out of your reports. In this article, we will show you how to find this report, what each section means and how to filter your report.
How to find your Comprehensive Report:
Login to your GuestRevu account at https://my.guestrevuapp.com/


Click on Reports > Comprehensive



Filtering Your Report
Changing the date range: Click on the dates at the top left side of your screen to change the date range you would like your report to reflect on.



Report By: This gives you the option to filter by review date, check-in or check-out date. Sometimes guests might leave a review sometime after their stay, change this accordingly to give you an accurate report based on when your guest actually stayed compared to when they responded to your questionnaire.
Review Source: This allows you to filter your report based on the platform the review was left, such as via your direct questionnaire or online travel agencies such as TripAdvisor or Bookings.com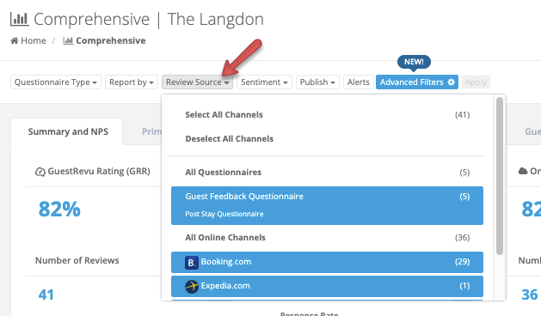 Sentiment: Filter your report based on reviews marked with either a positive, neutral or negative sentiment.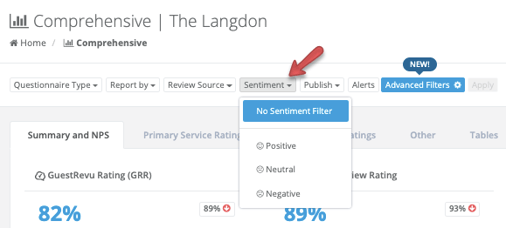 Alerts: Select this to base your report solely on alerts such as low ratings.
Once you've selected your preferred filters, click Apply.

Your Comprehensive Report, in detail:
When your Comprehensive Report loads, you will notice multiple tabs, we will now explain what each tab represents and why the information is useful.
Summary and NPS

This is very similar to your Dashboard Report and covers your main ratings such as your GRR (GuestRevu Rating), Online review rating and your NPS (Net Promoter Score).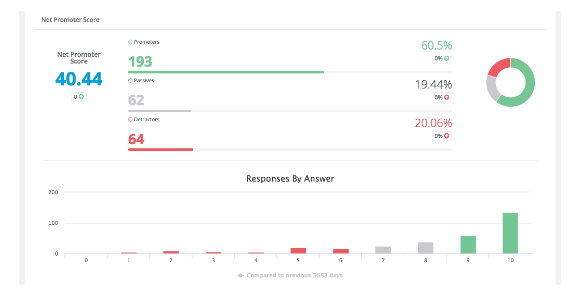 You are also able to determine the average length of stay for the time period based on all guests who have responded with valid check-in and check-out dates uploaded to the system.
Primary Service Ratings
This section of your report covers your primary services, such as overall satisfaction, room quality etc. Your primary service ratings are usually based on the questions asked on the first page of your questionnaire.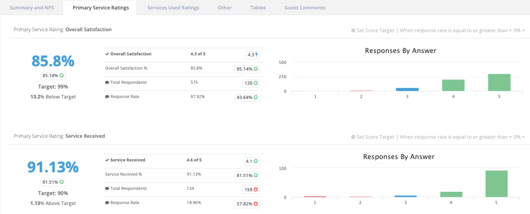 Each questions ratings will be broken down into more detail. You will be able to determine exactly what, and how many guests ranked each section.
In the example below, you can see that Overall Satisfaction has an overall rating of 98.76%, which means that the average score is 4.9 out of 5. This is based on 177 respondents, which made up 32.96% of the total number of guest's who responded to your questionnaires during the selected date range. (Guest's do have the ability to skip questions if they choose).

The graph to the right-hand side gives you a quick glance at which rankings are the most common for that particular question, in this example, we can clearly see that the majority of the guests gave a rating of 5 for overall satisfaction.
Services Used Ratings
The Services Used Ratings are based on the remainder of your questions on your questionnaire such as reservation and reception services, staff service, breakfast service etc. This is also based on the drop down questions that only appear if a guest has given a low rating on the questions on the first page of your survey.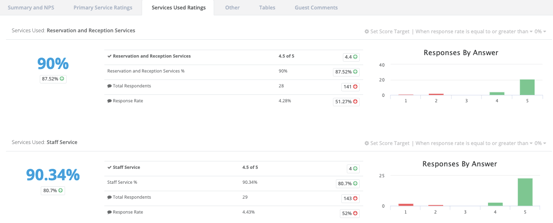 These are broken down in the same way as your Primary Service Ratings.
Other
These are all your additional questions that are a multiple choice selection rather than ratings such as "What sort of trip was this?".
On this report, you're able to see how many of your guests answered what for each of these questions. This report is especially useful for marketing purposes. As you can see in the example below "How did you hear about us?", at a glance you can easily determine which of your marketing methods have the most impact, in this example, "Recommendation" is the most popular choice for how this hotel's guest's heard about their property.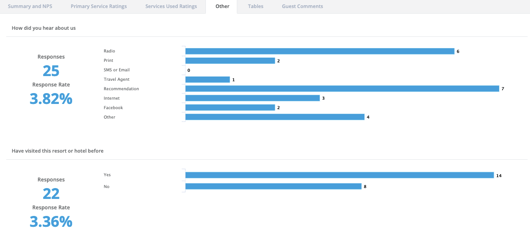 Tables
This section of your report is a breakdown of all your survey questions in table format. For example, you can see that 170 guests rated a 5 on overall satisfaction, which means that 96% of the guests gave the property a full score whereas 1 guest gave a rating of 2 which makes up 0.6% of the guests.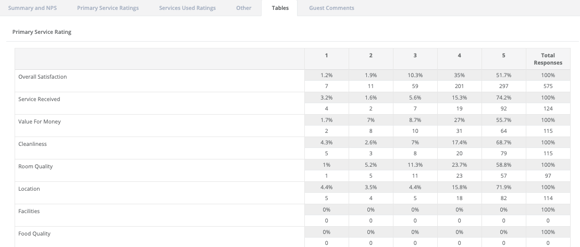 Comments/Suggestions
On your guest feedback questionnaire, you have a couple of questions which require a written comment as an answer, this section compiles all those comments for each comment question in one place.