This article will describe how to set up targets on your dashboard and reports at a group or individual account level.
This allows you to set goals that you aim to reach for specific areas of your property, for your overall feedback scores, or for properties in your group to aspire to.
For instance, if you notice some departments are performing worse than others as indicated by your Primary Service Ratings, you can set a target score that you want all of the service ratings to reach, and track progress for underperforming departments as you make changes to improve them.
To set a target for a section of your account:
1. Log into your GuestRevu dashboard at https://my.guestrevuapp.com
2. Select the property or group that you would like to add the target to
3. On your dashboard, scroll down to the section that you would like to add a target to. In our example, it would be your Primary Service Ratings section, but targets can also be applied to your Net Promoter Score, Sentiment and Competitor sections under your dashboard. You can also add targets to your Group Leaderboard report, Comprehensive Report and your Service Rating Report.

4. Locate the Set Score Target button. This will be to the rght of the section's title.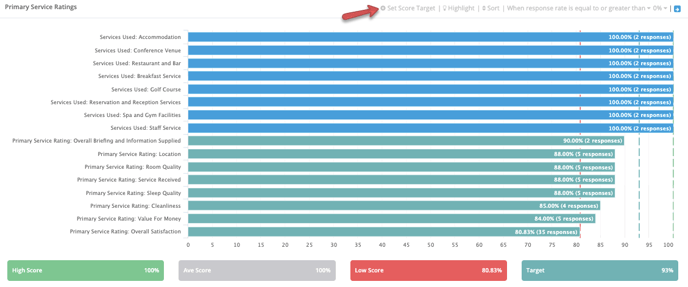 5. Type in your target score and click Update. There no need need to add a percentage sign.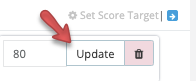 6. Your target will now display as a dotted target line within the relevant section's graph, with areas that have achieved the goal being highlighted in blue and those that are falling short of it highlighted in green. In the case of Sentiment or other sections which do not display your scores in graphs, it may be displayed beneath your score along with an indication of how far you are from reaching your goal, or how much you have exceeded it by.