In this article, we are going to show you how to switch between properties in your GuestRevu account.
This will give you access to any features you have permission to access for each individual property, such as uploading your guests' details or sharing comments to social media.
1. Log in to your GuestRevu account at https://my.guestrevuapp.com
2. Click on Switch Account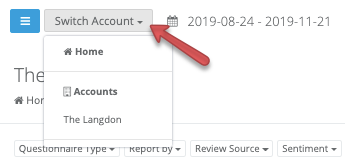 3. The accounts you see displayed have been added to your quick account switch list. You can Select which property you would like to view on its own and that property's dashboard will load automatically.



4. To add more properties to your account switch list you will need to click on Home and then find the account you'd like to add and click on Actions. You can then choose to add the account to your account switch list.
5. To switch to another account, or to go back to your group dashboard, click on Switch Accounts again, choose another property, or click on your group's name under Account Groups.