In this article we are going to show you how to find and use your group leaderboard report.
This report is an incredibly useful tool to determine which properties in your group are performing the best and which properties are falling behind compared to each other.
How do I find my leaderboard report?
1. Login to your GuestRevu account at http://my.guestrevuapp.com
2. Click on your Switch Account list at the top and choose the group you'd like to view from the list.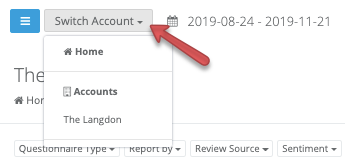 3. Click on Reports > Leaderboard. Your leader board report will automatically load.

Understanding your Leaderboard Report
Your group leaderboard report is separated into three sections: Overview, Primary Service Ratings and Services Used.
The Overview section will show you how your properties compare overall. The Primary Service Ratings will show you a selection of questions from your survey representing common facilities that all properties offer and can therefore be compared on. Services Used offers a comparison of more detailed and customised questions (e.g Receptionist knowledge and friendliness).
What can I learn from this report and how does it work?
This report is based on either the responses to your guest feedback survey and your online reviews depending on which products you have access to and which are selected.
To choose your source, click on the Source dropdown at the top of your page and select which properties, questionnaires or online sources you would like to base your report on.
Every source will be in the same format, highest ranked property at the top and lowest at the bottom. As you scroll down you will see exactly which properties are receiving the highest ratings and the most reviews. This report can be used to benchmark aspects of your hotels against each other and perhaps ask for assistance from the higher ranked properties to help increase the lower ranked properties ratings.
The grey, blue and red lines are used as a guide to see how properties lower down or in the middle compare to the highest (blue), average (grey) and lowest (red) score.
Each section will have an Aggregated Score Summary on the right-hand side which shows you your overall average rating for all properties, as well as the lowest and highest scores.