On GuestRevu you can create account groups to compare your properties against each other and find areas that might need improvement or areas that they are doing exceptionally well in.
To create a group account, first log in to your dashboard.
Go to the blue menu on the left and click on "My Account Groups".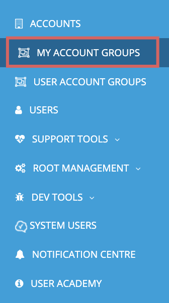 On this page you can see and access all the groups you have created so far. To create a new group just click on the blue "New Group" button on the right.

Type in the name of your group and add a description if needed and then click "Save".

You will then be redirected to a page that lets you manage which properties are part of your newly created group. You can add or delete properties from here.
To add properties, click on the "Add Accounts" button on the right to add some of your accounts to this group.

Now you can choose which properties you'd like to add on to your group by clicking on the blue "Add Account" button on the right-hand side of each property.