In this article, I'm going to tell you more about the TripAdvisor Report and how to find it.
How do I find my TripAdvisor Report?
Log in to your GuestRevu account at https://my.guestrevuapp.com/


Click on Reports > TripAdvisor


What can my TripAdvisor Report tell me?
Firstly, your TripAdvisor report will tell you your current ranking on TripAdvisor, your overall ranking and a trend determining how your ranking has changed over time.

If you are currently using Reputation Management in conjunction with TripAdvisor built directly into your Guest Feedback questionnaire, we will then break down your organic vs jointly collected reviews. Organic reviews are reviews from guests who have gone directly to TripAdvisor without using any links or built-in TripAdvisor forms, whereas jointly collected reviews are guests who have left a review directly from your questionnaire.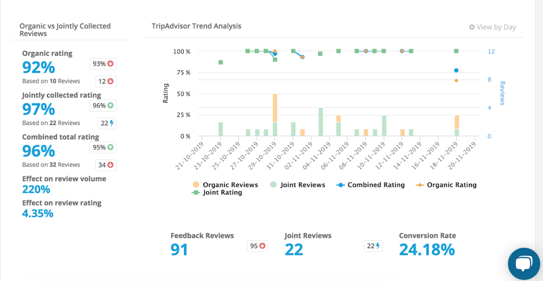 The table below breaks down the ratings for each question that TripAdvisor asks and gives you your average overall rating and the number of responses that have been received for each section for the date range that you have chosen.

Below this table, you'll find the Sub Rating Trend graph, showing you how many responses you have received for each of the questions that TripAdvisor asks, and how your rating for each of those questions has changed over time. As with all our graphs, you can easily choose which individual criteria or sub-ratings you would like to see by clicking to select or deselect them in the legend below the graph itself.

Lastly, we break down the type of trip and the reasons your guests visited your hotel as well as languages most commonly used by your guests. This is useful for marketing purposes and gives you a good idea of why the majority of your guests visit your hotel, for example, business trips, family holidays or romantic getaways.

How to view your TripAdvisor reviews.
From your report, you are also able to view the TripAdvisor reviews that have made up these ratings by clicking on the TripAdvisor Reviews tab at the top of your report. Here you will find a breakdown of all your TripAdvisor reviews, both jointly collected and organic, along with their scores and the users who left them. At a glance, you can easily see which reviews were jointly collected and which have been responded to, as indicated by the tick in the Jointly Collected (

) and Management Response (

) columns.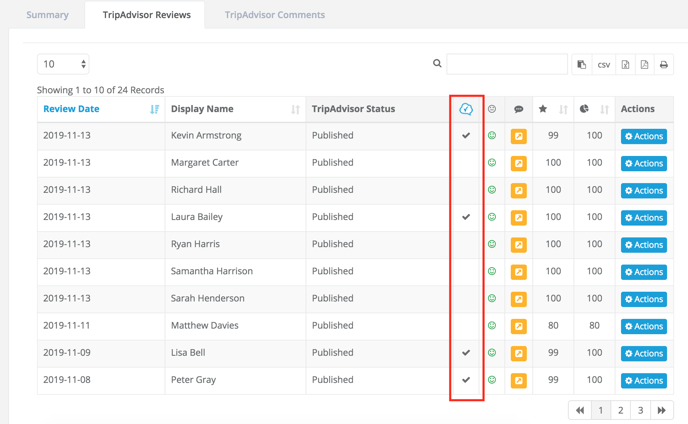 Another column that is included in this breakdown is TripAdvisor Status. TripAdvisor has strict content requirements, and every review submitted to them, whether through your questionnaire or on the website itself, gets checked before it's published. This column shows you what your review's status is, whether it's new (meaning it's still being assessed), published, or removed.
You can also filter these reviews to view only those that have been collected organically, or only those that have been jointly collected, by clicking on the Organic vs Jointly filter towards the top of your screen.

From here you can view your full review by clicking on Actions > Quick View or Go To Review.

How to view your TripAdvisor comments
In addition to the Summary and TripAdvisor Reviews tabs, You can also see any comments from your reviews in the TripAdvisor Comments tab.
All comments made on TripAdvisor will be displayed here, including those rejected by TripAdvisor, and you will have a number of actions available to you:

Quick View will open a pop-up window, showing you the details for the review in a number of tabs
Go to Review will redirect you to the Reviews section of your account
Translate will allow you to convert the text from and to any language supported by Google Translate
Share will add the comment to the Social Media section of your account, from which you can post the review across your social media platforms. Learn how to post comments to social media
Create Service Ticket will open a Service Ticket pop-up window, which you can use to assign a task, or bring a comment to another user's attention.
If you are not currently integrated with TripAdvisor and would like to have access to this report and potentially push more reviews to TripAdvisor, get in touch with us at support@guestrevu.com and we will be more than happy to get you integrated.