If your property management system (PMS) is not integrated with your GuestRevu account so that it can send through guest details to the system automatically, you will probably find it easiest to upload multiple guests' email addresses onto your GuestRevu account at a time. In this article, we will explain the correct format to capture your guest details in, and how to upload multiple guests at once to your GuestRevu account.
How to format your file
1. Open a blank spreadsheet (Excel document) or the spreadsheet you exported from your property management system.
2. Your guests' details need to be captured in the format shown in the image below, with their name and surname as separate fields.
Please note:
a. Whilst other information is optional, your guest's email address is required.
b. Even if you are leaving a name or surname field blank, please make sure that there is still a column heading in the first row.
c. Depending on your email settings, you may need to ensure that you either capture your departure date or only upload guests who have already checked out.



3. Once you have captured your guests' details, you will need to save your file in an easy-to-find location as a CSV (Comma Delimited or Comma Separated Values) file.




Uploading your guest data file to your GuestRevu account
1. Log in to your GuestRevu account at https://my.guestrevuapp.com

2. Click on Guests > Manage Guests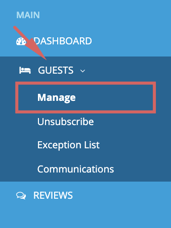 3. Click on Upload Guests in the top right-hand corner



4. Before uploading your file, ensure that the Separator and Date Format are selected.
If you're unsure of the Separator used in your CSV file, leave "Comma" selected, as most standard computers use this format. If the file fails to upload, try again with an alternative separator selected.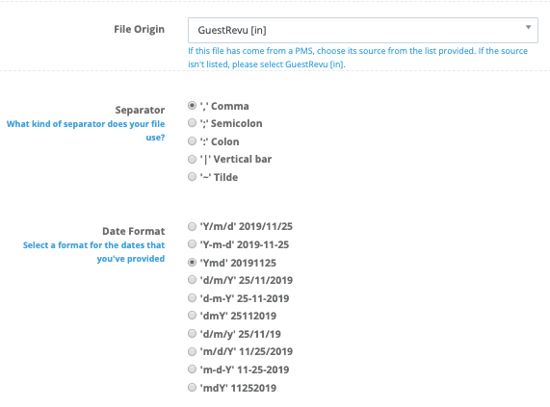 5. Select whether your file has column headers, such as "Name", "Email" etc.
6. Choose your saved file. The next step will automatically load.




7. You will be asked to select what data matches which columns, match up the columns with the correct data with the drop down boxes to the right.
8. Once happy with your selection, click Import Guests. Your guests will now be uploaded to your GuestRevu account and sent your guest feedback survey.