These questionnaires offer a convenient alternative to automatically sent email surveys. They can be completed at any time by any guest or visitor, even if their data is not already in GuestRevu.
Any-Time Surveys can be presented to guests at the optimal time and in the optimal format for your guests and business, at any point before, during or after a guest's stay.
These surveys aren't sent via email directly from GuestRevu, like your other questionnaires are, so they can be completed by guests or visitors without having to first load or import their email addresses and other data into GuestRevu.
The guest will be asked to provide certain information as they complete the survey, such as name and email as a way to identify them. This can be made either optional or required to fill the survey in.
GuestRevu provides you with a link to your Any-Time Survey, and a QR code, each of which can be shared in a variety of ways:
Place a QR code that links visitors' mobile devices to your survey at strategic points around your property or on menus and receipts
Link your guests to your survey in your own emails, or on your website or other web pages
Place tablets or iPads with the survey loaded on them at reception, in your lobby or anywhere else you think guests will have time to provide feedback. This is known as a Kiosk
How can I get access to Any-Time Surveys and QR codes?
Since Any-Time surveys don't work in quite the same way as GuestRevu's other questionnaires, they need to be activated on your account. There is no charge to activate Any-Time on existing surveys. If you would like to create an Any-Time Survey in addition to your other survey(s), there may be a charge. Contact the support team support@guestrevu.com for more information.
QR codes
By placing your survey QR code on menus, receipts, at reception desks and in other areas around your property, guests will be able to scan the code using their mobile device, and easily view and respond to your Any-Time survey during their visit, without the feeling pressured to do so.
For example: place a QR Code linked to an in-stay survey on the bedside table. Should the guest have feedback that would improve their stay they can tell you about it at the time. This is especially useful if you deal with long-stay guests, as this way they can provide feedback at any point during their stay.
What are QR codes?
A QR code works in the same way as a barcode at the supermarket. It is a machine-scannable image that can instantly be read using a smartphone camera. Unlike a barcode, when scanned a QR code will open an app or link, and in the case of GuestRevu's QR codes, scanning them will open a link to your GuestRevu survey.
Will guests know how to use them?
QR codes have been around for decades, and most people will have used them before. To scan a QR code, guests will need to have a QR reader installed on their mobile device (iOS phones come with a QR reader installed). Once installed:
Open the QR reader
Hold the device over the QR code so that it's clearly visible
The device will automatically scan the code
Depending on the QR reader installed, your guest may need to click a button to be redirected to your Any-Time survey.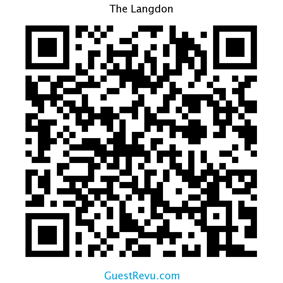 Links
The Any-Time Survey link is a generic link, so the same one is used for each guest. You can put these links in pre-stay communication, marketing emails or even behind a button on your website.
A perfect example for when an integration is not in place so you can place them in communication emails sent from your PMS or other sources. This means you wouldn't have to manually upload your guest data to GuestRevu.
Kiosks (Surveys loaded on a tablet or iPad)
By pre-loading your Any-Time Survey onto an iPad or tablet, you can create a feedback kiosk that can be strategically placed around your property to get you the feedback you require. Some great ideas on where to use a Kiosk
Restaurants
Spas
Bedrooms for in-stay surveys
Reception
Can I use my Tripadvisor integration in Any-Time Surveys?
You can send reviews to Tripadvisor from Any-Time Surveys, but if you are using them on site, we do not recommend using the Tripadvisor integration. Tripadvisor tracks the IP address of the device reviews come from as one of the checks to safeguard against fraudulent reviews, so submitting multiple reviews from the same location may negatively impact your property's listing. Consider directing guests to leave Google reviews instead of if the feedback is being provided on-site.
What personal information is required in an Any-Time Survey?
This can be customised, but if you want to link reviews to specific guests, or send any follow-up communication like a thank you email, you will need to have the email as a mandatory field. We suggest that you consider including these fields:
Name
Email
Check-in Date
Check-out date
Room number
The more information you require from guests, the easier it is to identify them and understand their experience, but the less likely they will be to complete the survey. You will need to find a balance that works for your establishment.
Here is a link to a test survey for a Restaurant for you to have a look at. All the fields on the first page are mandatory. You can choose to include fields but make them not mandatory, or not include them at all. If no date for a guest's stay is given, the survey will show the date that they completed the questionnaire as the date of their visit. This may make it more difficult to allocate feedback to specific guests.
Can I track my response rate?
You will still see your response rate on the dashboard, however, this will not be accurate as we have no way of knowing how many guests were presented with the opportunity to provide feedback but chose not to.
Top Tip
There is always more than one way to get the results that you are looking for. Sometimes it is about meeting the guest where they are most comfortable to get the best results.