Quickly preview your entire questionnaire
If you would like to preview your GuestRevu survey, there are two ways that you can do this.
Add yourself as a guest and send yourself an email directly from your account. This article will take you through the steps on how to do this.
View the questionnaire from the preview link. This turns off the logic triggers, Tripadvisor integration (if applicable), and ensures that the response does not reflect on your reports.
In this article, we will be showing you how to preview your questionnaire using the preview link.
First, log in to GuestRevu and navigate to your dashboard.
Once you have your account open, you will now need to go to the menu on the left-hand side of your screen and click on "Questionnaires"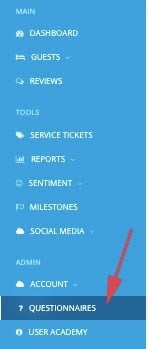 From here, you will see a few options that you can click on. To view the survey, you will just need to click on the "Preview" button, and then it will take you to the preview link.

If you would like to change, add or remove any of the questions on your current guest feedback questionnaire, please contact support via support@guestrevu.com or give us a call on +44 (0) 800 133 7023 (UK) or +27 (0) 87 231 0125 (RSA) and we will be more than happy to assist.
Top tip
Did you know you can add nifty features like emojis, icons, and smileys to your surveys? Let the support team know if you would like any of these fun and helpful elements to your survey(s).
Examples: