Unless you have changed your notification preferences, you will automatically be notified of guest responses via email as soon as a guest responds to a survey. This email will contain the guest's details along with their ratings.
An alternative way for you to see which guests have responded, and what ratings they gave you, is to log in to your GuestRevu account and navigate to your "Reviews" tab, which is located in the menu bar on the left-hand side of your screen.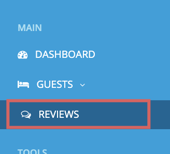 You can now find your guest by either using the search tab.

You can also filter your list to view reviews with low ratings by clicking on Alerts, or you can exclude your online channel reviews and only view your questionnaire responses.