It's important to define and understand Key Performance Indicators (KPIs) for your property and why you should pay attention to scores in each of these areas.
Your GuestRevu account is full of many valuable insights and scores, but there are a few metrics that most hoteliers pay close attention to. In this article, we will discuss these KPIs and provide GuestRevu averages and industry benchmarks where possible to help you determine what scores you should aim for.
Where do I find my KPIs?
All your main KPIs will be visible from the Dashboard. To get to your Dashboard:
Log in to your GuestRevu account at https://my.guestrevuapp.com
If you have access to multiple accounts, select the account you want to look at
by clicking on the name of the property
The account will open on your dashboard
You will see the following KPIs displayed on your dashboard:
GRR Rating
Feedback Review Rating
Online Review Rating
Response Rate
Net Promoter Score
Primary Service Ratings
Sentiment
GR Rating
Your GuestRevu Rating is a consolidated, overall score that combines results from questionnaires and online reviews. More about the GRR
GuestRevu Average* – 86.08%
Feedback Review Rating
The feedback review rating comes from your direct guest feedback questionnaires.
GuestRevu Average* – 87.44%
Did you know: If this score is lower than your online review scores it often means that your questionnaires are working as they should and negative feedback is being kept in-house.
Online Review Rating
Your online review rating is a combined average of all your online reviews from different online review sites around the world.
GuestRevu Average* - 84.22%
Where do these reviews come from?
Although we track reviews from over 30 sites, the vast majority of online reviews come from the Big Four: Google, Booking.com, Tripadvisor, and Facebook.
Response Rate
Your response rate shows the percentage of guests who you emailed who went on to complete a survey.
GuestRevu Average* – 28.44%
Response rates do vary significantly depending on the type of property and clientele you aim for. For example, pre-pandemic response rates for leisure travellers were higher (about 30%) than those for business travellers
(20-25%). Hotels with a loyal, engaged customer base can see response rates of in excess of 42%.
Net Promoter Score (NPS)
The NPS is a metric used across all service industries and is calculated based on how many of your guests would recommend your hotel versus how many wouldn't. Higher scores are better than lower scores, and negative scores are possible. More about the NPS.
GuestRevu Average* – 53.95
Industry average – 39 (source)
Primary Service Ratings
Your primary service ratings show scores for each distinct aspect of guest experience such as cleanliness, food and beverage, reception, and so on. You can also use custom surveys to track scores specific to your offerings, such as safaris or spa treatments.
Which of your primary service ratings you count as KPIs will depend on your product and business goals.
The below Primary Service Ratings are from our blog 2019 vs 2021 New guest feedback benchmarks
GuestRevu Averages:
Overall satisfaction – 89.35
Service – 92.22
Value for money – 88.5
Cleanliness – 91.6
Location – 93.16
Sleep quality – 89.83
Room – 88.52
Sentiment
Your sentiment is based on the number of positive, neutral and negative reviews that you receive. This score is determined by an algorithm that analyses keywords in each review that indicates the guest's sentiment and emotion when leaving comments in your questionnaires or in online reviews.
GuestRevu average* – 71.75%
We also looked at which keywords were mentioned most frequently in positive and negative contexts across over 200 hotels*. "Staff" was clearly the keyword guests used most often in a positive context.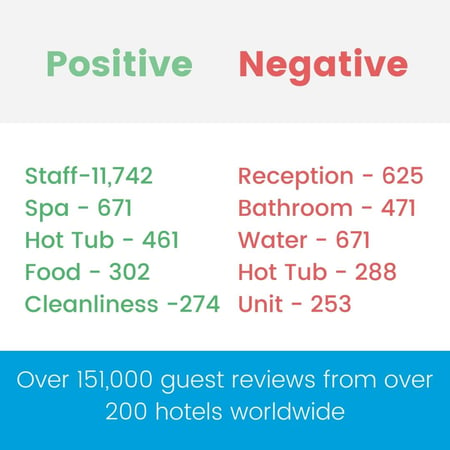 Top Tip
Now that you have an idea of what KPI scores you should be aiming for, why not have some fun slicing and dicing the data with Advanced Filters?
*We used data from over 200 properties around the world from 1 January to 31 December 2021 to provide the averages for you. All these properties were using GuestRevu PRO.